About Dr. Wescott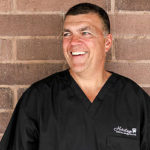 Dr. Wescott was born and raised in Lynn, Massachusetts on Boston's North Shore, where he attended Lynn Public Schools through High School. He went on to receive his BA in Biology from St. Anselm College in Bedford, NH and later attained his Doctorate of Dental Surgery [DDS] from Georgetown University School of Dentistry in Washington D.C.
Dr. Wescott entered his private Dental practice in Lynn, which he successfully maintained for 30 years. During his practice, he invested in new technologies and continuing education to ensure his patients state of the art dentistry. Because he had the desire to provide only the best care for his patients, it led him to become licensed by the Institute of Advanced Laser Dentistry [IALD]. This helped him able to provide Laser Periodontal Therapy [LPD]* to his Patients. He is now one of the only dentists in the Hilton Head/Bluffton area licensed and experienced in providing LPT* or LANAP [Laser Assisted New Attachment Procedure] using the Millennium Dental Inc MVP-7* Laser.
To ensure his patients the most modern Dentistry, he has acquired more than the minimal Continuing Education hours required by the state of South Carolina for Licensure. These classes help expose Dr. Wescott to the most advanced procedures available for his patients. He is also a member in good standing of many Dental organizations including: the American Dental Association[ADA], Massachusetts Dental Society [MDS], South Carolina Dental Society [SCDS],North Shore Dental District [NSDD], Low Country Dental District Society, Institute for Advanced Laser Dentistry [IALD] and the Spear Institute for Dental Learning.
Dr. Wescott and his wife, of 30 years, raised two children whom have both moved on in their own lives. Their daughter is a Geologist working in the oil industry in Denver, CO while their son is currently an Infantry Lieutenant in the USMC, stationed in Hawaii. Becoming empty nesters, Dr. Wescott and his wife relocated to Bluffton, South Carolina, in October 2016, to enjoy the low country and all its benefits.
Schedule your appointment
Serving patients in Beaufort and the surrounding areas. Call to schedule your appointment with Dr. Wescott. New Patients Welcome!